"Arizona?"
"Yep, my parents live there, but I've been here for a few years now."
"Good for you!"
He smiled as he gave me my driver license back.

Of course, that was just an excuse to pat my back, which was just a pretext to put his hand on my shoulder, which was just a ploy to slowly slide it up and down massaging me a little too sensually for my liking. Oh yes. I was just about to enter the gay bar.
—-
The two female friends I came with, a feeble protection at best, quickly scouted for the bathrooms. I figured I might follow their lead and make some room in my bladder as well. I was just finishing washing my hands, mere 3.8 minutes since we entered the parlor, when a fine gentleman by the door smiled at me and said: "can I buy you a drink?" Flattered, I declined the offer. For now.
—-
As I exited the bathroom the show we all came to see just started. Ten men. Ten chests. Ten boxer-briefs. There's really no further explanation necessary; but oh how embarrassing would it be for one of these men to get an erection now; how embarrassing to be in that man's shoes. If he wore any.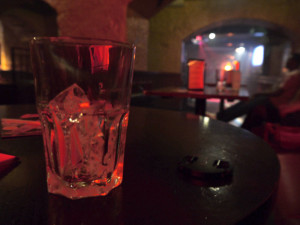 My friends just came out of their lady-bathroom and I made a quick excuse to the bar – "I'm going to need a drink if I want to get through this." As I waited for the bartender, the fine gent from the bathroom reproached me as before.
"Look. I am straight. Do you still want to buy me a drink?"
The free corona and lime quickly led me to his two other British friends, talking about their international travels and prying about my own Polish origins. They did not seem interested in my story. And I wasn't in theirs.
—-
The music wasn't the greatest, but the alcohol metabolizing in my bloodstream made it somewhat adequate, much unlike my dancing abilities. Soon it was back outside to catch a breather.
"I feel odd; I've never been bought a drink before, I feel I at least owe the guy a good conversation."
"It's ok honey, he's just making moves."
I naively questioned my friend's judgment and returned to the abandoned gent to repay with a round of drinks on me, a good custom I've acquired from my time abroad. At the very least, I could clear my conscience and confirm it was just two newly met friends simply having a beer and chatting away at the bar, as friends often do. He gladly accepted the offer as he put his arm around me.
I made a huge mistake.
—-
The other half of our party just arrived, giving me the excuse I needed. Accompanied by Tokyo teas and white Russians, we traversed the entire locale from bar to the dance floors, from dance floors to the couches, and then from couches back to the bar; wherever the night took us and wherever the gent was not. I think I moved the couches once.
—-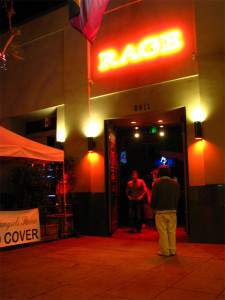 I don't quite remember how (something involving the cherries) but I was now alone outside on the patio. The gent tried his luck yet again, offering more drinks and pleading me to visit him at the Best Buy he worked at. Then came the merry drunk girl, drunk to the point of complete comfort and friendliness. I seized the moment instantly, putting my arm around her and hoping to dissuade the gent with such a clever ruse.
But my plan crumbled. She was not a merry drunk girl in a club; she was a goddamn matchmaker. And her noble mission of the night was to get us to, as she put it poetically, 'hook up.' The gent, being older and perhaps having lived this scenario many times before, knew exactly the response as he smiled cordially and explained he was not a one-night-stand-guy, and would never in his life attempt such a meaningless night of passion. Fancy that! I would.
—-
But alas, the gent had the wrong set of genitalia, and the drunken marrymaker had already succumbed to working on another couple needing that extra push. Godspeed, I thought, as I dashed another round of drinks with the Britishmen, looking for my friends who were now looking for me. Drunken hugs were exchanged between those taking different cars, and I glanced around the peculiar locale one last time, compartmentalizing the unusual set of events typical for this sort of a place, content with the newly acquire experience and the free beers lavishly drifting through my veins.
And then, one of those ten men in briefs got an erection.