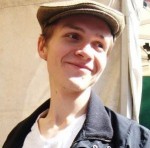 I am a Polish-American, traveling Cinematographer, Web Developer and Games Programmer. During the past decade, I have lived in or travelled all across the US, Poland, Japan, North Ireland, Scotland, India, Costa Rica, and currently Los Angeles. During my travels I take on freelance web and filmmaking gigs as they come. Oh, and I also dabble in hobby game-making as well, having worked in the industry for two years before. Click Here to view my stuff!
On the formal side, I have a B.A. in Humanities from Soka University of America (California, USA) and a Masters in Comparative Ethnic Conflict from Queens University Belfast (North Ireland). Neither of those having anything to do with my career right now, but I have no regrets obtaining them!
Also, I really like riding my bicycle.
Contact